Date: 11/12/2015
Driver Shortage Crisis: 3 Ways to Protect your Haulage Business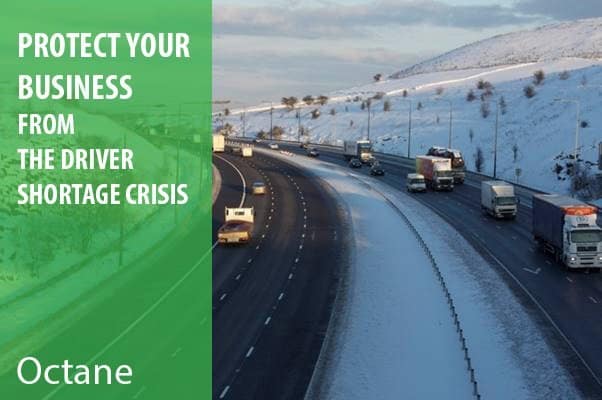 Image courtesy of Richard Kay at Geograph
It's been a challenging end to 2015 for road haulage companies. In fact, due to the chronic lack of drivers the Road Haulage Association (RHA) issued a stark public warning that many shelves may lay empty this Christmas. The warning came as hauliers around the country battled to keep up with demand, unable to find enough qualified drivers to fulfil deliveries. Unfortunately, it looks like the situation is set to go from bad to worse in 2016.
The impact of the driver shortage
The impact of this driver shortage could have a profound effect on the whole economy. According to statistics published by the RHA over 85% of everything bought in the UK is carried by a truck at some stage in the supply chain.
This year saw the RHA launch its inaugural National Lorry Week to address the worsening driver crisis. Its chief executive, Richard Burnett, was quoted by the Guardian as saying:
"We are short of between 45,000 and 50,000 drivers and the situation is getting worse. Thousands of older drivers are leaving the industry and younger people can't afford the £3,000 it costs to get a truck licence. The government could help, but won't."
According to the RHA, without serious action, this figure is set to increase to an estimated 60,000 shortfall of drivers within the next 12 months.
What does the driver shortage mean for your business?
A survey in July conducted by the Freight Transport Association (FTA) indicated that 46% of operators were experiencing long delays or were unable to recruit HGV driver vacancies.
Retirement seems to be one of the biggest factors facing small hauliers and is only set to worsen. The overall percentage of the workforce over the age of 45 is 35% nationally. In contrast, a staggering 62% of truck drivers are over the age of 45.
With the numbers approaching retirement far exceeding the numbers coming into the profession, the problem has reached crisis point.
Last month saw the issuing of a profit warning at DX Group, citing a shortage of HGV drivers as one of the main factors for their rising costs. The fear is that this is just the tip of the iceberg and more and more companies will be issuing similar warnings over the next 12 months.
What can you do to start protecting your business?
There is positive momentum in the sector to address this problem, with the RHA lobbying furiously for greater government support. At an individual level, as well as helping raise the profile of the industry, there are three key things you can look at to start protection your haulage business.
1. A retention programme for your existing staff
The shortfall in the supply of new drivers means good retention policies are no longer a nice-to-do, they are essential. You need to hold onto the drivers you have. With such a widespread national shortage, the only place companies may have to look for qualified drivers is their competition – your drivers.
It is not all about money. Most people's first thought when they think 'reward' is more money; more money they don't have. But money is just one aspect that makes an employee feel valued. Feeling rewarded and happy in a job goes beyond financial incentives. People want to feel appreciated for their work and have influence in the decisions that affect them.
Many drivers can feel quite isolated and excluded. They spend most of their day on the road and miss information shared with other employees and office staff.
The simplest thing that any company can do is listen.
What are the issues your drivers have? Where would they like to see improvements? Give them a forum to have their say – in person or via a driver survey. You may not be able to act on everything immediately, but it will give you a starting point.
Image courtesy of Veronica538
2. Promote your workplace
Your drivers and your vehicles are part of your promotion tool to the rest of the world. Happy, engaged drivers are advocates for a career in the sector. Every day your drivers interact with numerous customers and members of the public. Their portrayal of themselves and your company, informs people about what a career with you would be like.
Why not consider taking it one step further and launch your own internal referral programme for new drivers? Referrals can be a cost-effective way to recruit. They engage your whole workforce in the recruitment process and can be an excellent way to reward loyal staff.
3. Work smarter and reduce costs
Reducing costs and increasing the efficiency of your existing drivers is key to the survival of your business. Now may be the time to step back and look at your business with fresh eyes.
Do you have a fuel management system? The labour saving by removing manual tracking systems, paperwork and receipts could make a huge saving to you, and increase the efficiency of your current team.
Fuel on-site ensures that each morning your vehicles are fuelled and ready to go. It can reduce driver time wasted waiting and queuing for refuelling. Smart technology avoids the overheads of manual tracking and gives you a real-time overview of your second biggest expense, fuel.
A fuel management system will help eliminate spillages and will make the taking of unauthorised fuel near impossible. It is important to think of your fuel as your liquid cash. You need the security and information you would expect from your cash at the bank. Real-time easy access to balances and transactions and limited access to withdrawals.
The combined saving in fuel and man-hours will help you reduce overheads and better position yourself to survive the current challenges in the labour market. Fuel management systems don't have to be a luxury that only the big operators can enjoy. We have solutions to suit fleet sizes from 2-10,000 vehicles.
If you're a small haulier that wants to manage your fuel cost-effectively, contact us about whether the Sapphire Lite Fuel Management System is the right option for you.