Date: 23/03/2016
2016 Budget: The Big News For Hauliers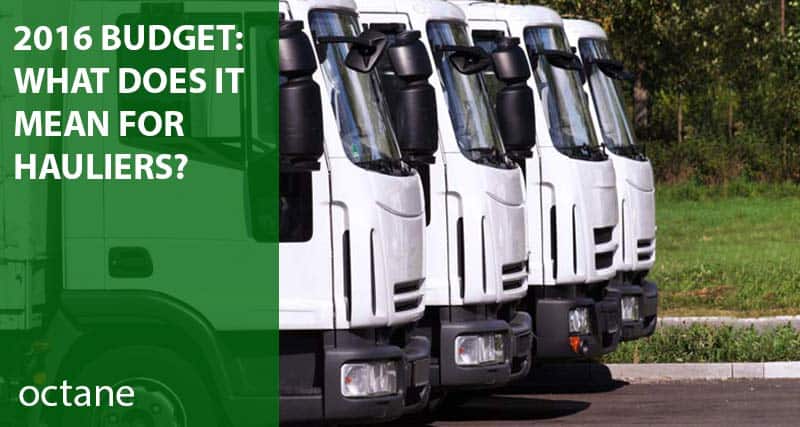 From driverless lorries to fuel duty increases, there was mounting speculations and concerns expressed by the transport sector in the lead-up to this year's budget announcement. So what actually happened?
In Chancellor George Osborne's budget speech on Wednesday 16th March 2016, all was revealed.
Here is a round-up of five of the key announcements from this year's budget speech, that for better or worse, are likely to impact on your business into the future.
1. Fuel Duty, HGV VED and Road User Levy's to remain frozen
That's right – you can breathe a sigh of relief! At just before 1.30pm on Wednesday 16th, Chancellor George Osborne announced that fuel duty will remain frozen. There had been mounting speculation in the weeks leading up to the election that, for the first time in five years, it would be increased.
The fears in the run up to the Election were understandable. The Guardian reported on how in the 2011 budget, the government had stated that…
[blockquote]if the oil price falls below a set trigger price on a sustained basis…fuel duty will increase by RPI plus one penny per litre in such a year.[/blockquote]
The trigger price referred to was $75 per barrel. Currently, the price sits at $40 per barrel. With the price of oil so low, there were fears that motorists would be an easy target for the Chancellor.
The current fuel taxes account for 57.95 pence per litre for petrol, diesel, bioethanol and biodiesel, less for gas and oil. A rise of 1p above inflation would have raised billions for the Treasury. Thankfully, Mr Osborne avoided angering 30 million motorists and a transport industry already under pressure, by announcing a freeze on duty.
And, it's not just Fuel Duty, the government has also announced that they will keep the rates of HGV VED and Road User Levy frozen in 2016-17.
For fleet managers, the 100% First Year Allowance (FYA) for businesses purchasing low emission cars has been extended for an extra three years to April 2021.
2. Driverless Lorries to become a reality
As predicted, it was announced that the testing of driverless lorries will indeed become a reality. In their full 2016 budget document, the government outlined its intention to…
[blockquote]establish the UK as a global centre for excellence in connected and autonomous vehicles[/blockquote]
As well as earmarking funds for the testing of platoons of driverless trucks in convoy, they also outlined their plans to begin consultations this summer to 'sweep away regulatory barriers' that would prevent autonomous cars from taking to UK roads.
£15 Million will be spent on the creation of a 'connected corridor' between London and Dover which will be equipped with the infrastructure needed to allow wireless communication with vehicles.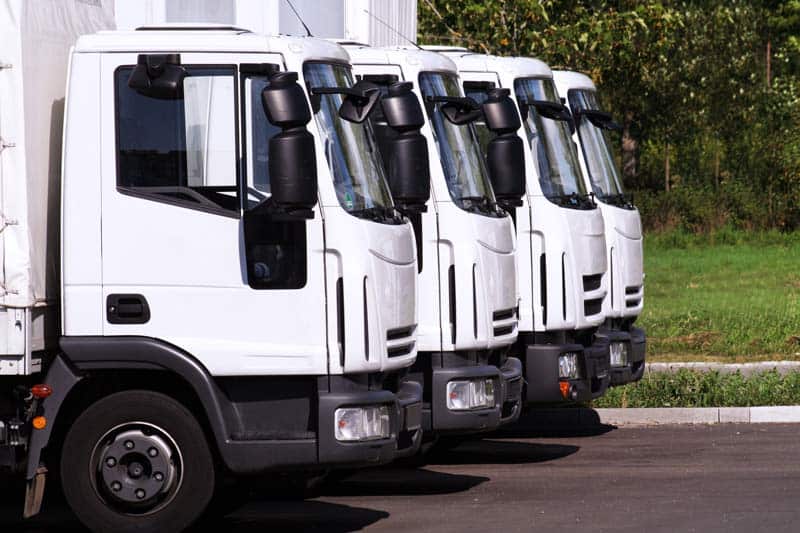 Potential benefits of driverless lorries
It is envisaged that up to 10 driverless lorries would drive in convoy at a time, reducing the distance between them and allowing synchronised acceleration and braking. It is hoped that by grouping lorries in convoy in this manner could increase road capacity while the autonomous technology could improve road safety by reducing the risk of collisions caused by tired drivers
Another benefit is the potential fuel economies. The Daily Express highlighted how previous experiments in the field had shown fuel economy savings of up to 15% and a corresponding reduction in Co2 emissions. This economy is due to the lorries being close enough together that they can slipstream off the first lorry, reducing drag and consequently fuel usage for the following vehicles.
Autonomous Vehicles, not without their concerns
Not everyone is in favour of autonomous vehicles and the unveiling of the trial has sparked many to express their apprehension and reservations. The Daily Express quoted AA president Edmund King as saying:
[blockquote]The problem with the UK motorway network is that we have more entrances and exits of our motorways than any other motorways in Europe or indeed the world, and therefore it's very difficult to have a 44 tonne 10-lorry platoon, because other vehicles need to get past the platoon to enter or exit the road.[/blockquote]
What will happen next?
It has been reported that the initial trials will take place on the M6 in Cumbria. This location is seen as the ideal choice as it has fewer entrances and exits and the traffic density is lower than most other stretches of motorway.
The RAC Chief Engineer, David Bizley, reassured those concerned about the initial safety that:
[blockquote]In terms of the trials, it is our understanding that there will be drivers in every lorry until the technology is thoroughly proven, which is obviously a condition we would welcome.[/blockquote]
3. Insurance Levy's increase lower than predicted
It was announced that the standard rate of Insurance Premium Tax (IPT) will increase by a half of a percent – from the current 9.5% to 10%. While this will likely see increases passed on to policyholders, across the board, it has been heralded as good news with the increase lower than initially feared.
The Insurance Premium Tax (IPT) is a tax on insurers, which they then pass onto customers. In July 2015, this tax was increased from 6% to the current 9.5%, which took effect in January. In the week before the budget, it was reported in the Daily Mail, how senior sources had indicated that there could be a further 3% hike as part of the 2016 budget. This would have resulted in serious increases to premium's right across the sector.
4. Reduced Corporate Tax and other business reliefs
And there was good news for the future of transport companies and hauliers, with a planned reduction in the Corporate Tax Rate announced. Chancellor George Osborne described corporation tax as "one of the most distorted and unproductive taxes" and announced its reduction to 17% by the financial year commencing 1st April 2020.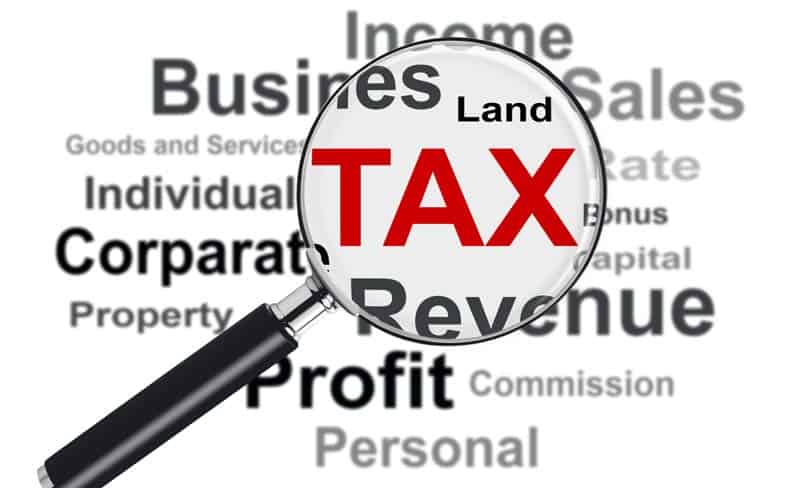 The following are some of the other key business measures announced:
Business rates cut for all properties in England, with 600,000 small firms to be exempt from paying rates at all. A reduced burden on small business of £6.7 billion over the next five years.

Capital Gains Tax to be cut from 28% to 20%, the basic rate from 18% to 10% from April 2016 and the entrepreneurs relief to be extended.

£1 billion in reliefs were announced to help the struggling oil and gas industries, with the scrapping of the Petroleum Revenue Tax in its entirety and the supplementary charge on oil and gas cut in half from 20% to 10%.

The Carbon Reduction Commitment energy efficiency scheme is to be cut and replaced with a less bureaucratic and burdensome Climate Change Levy by 2019.
The big winners from this budget were small businesses, with this 'cocktail of business-friendly measures' announced… although it will fall to the big corporations to pick up the bill, and then some, according to the BBC.
Big firms will face a crackdown on tax avoidance practices, in a combination of measures that are aimed to generate £9 billion in additional revenue to the Treasury.
5. Road Infrastructure Boosts
The government described their plans for improvements to the UK roads infrastructure as,
"The biggest investment in transport infrastructure in generations and is increasing capital investment in the transport network by 50% over this Parliament compared to the last, investing £61 billion."
Some of the key measures announced, included a huge boost for the promised Northern Powerhouse. Highlight of measures are:
A new four-lane M62

A new tunnel road that will run from Manchester to Sheffield

Upgrades to the North Pennies A66 and A69 roads

£50 million Pothole Action Fund

£130 million in road and bridge repair in the wake of storms Desmond & Eva
The Chancellor also announced that the Severn Bridge toll charges are to be lowered, to help the Welsh economy.
So, what does it mean for you and your business?
In all, there have been some immediate wins with the fuel tax freeze and less than expected increases in insurance. And as for the future for hauliers? Better roads, lower corporation tax… and potentially fleets of driverless lorries. It's hard to envisage. To read the full budget 2016 report, click here.