Bunded Fuel Tanks
Custom design and installation
Octane will work with you to design and install a high quality custom-made steel bunded fuel tank to meet your specific business requirements. We won't just drop the tank at your door, the project will be managed from start to finish by certified industry professionals, who will make sure it runs smooth and as stress-free as possible.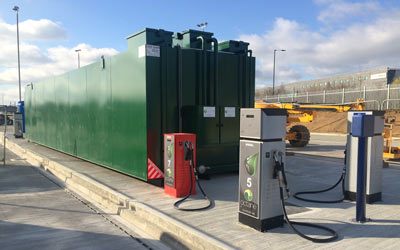 Why Custom Made Bunded Fuel Tanks?
Now I know you're probably thinking, why custom made fuel tanks?
The main reason being your tank will fit your site instead of having to adjust your site to fit the tank. See an example below from one of our recent jobs:
Personal Service
You'll also receive a much more personal service than buying off-the-shelf tanks. This would start with a site visit from an Octane engineer who will carry out a survey for you and make sure the tank you're ordering is the correct tank for your site.
Our engineer will be looking at things like where your diesel storage tank will be situated and also if you have adequate drainage – which is a safety requirement.
All this is included in the one price – no hidden fees.
Just wanted to say what a cracking job your team have done!! They were very aware of all the H&S policies and procedures at all times, signed in both days before starting any work, they were tidy and the finished result looks great!!
How much does a new bunded tank cost?
And now you're probably thinking – I bet custom made fuel tanks cost a lot more than an off-the-shelf tank don't they?
The thing is, they don't.
Most bunded fuel tanks over a certain size are all custom made anyway. It might just look like they're not on the ecommerce site you're looking at.
However, when you read the delivery details you'll find out there's a few weeks lead time. This is because they're being made to order. Click the button below and get a quote, you'll be pleasantly surprised.
Bunded Fuel Tank Options
Tanks can be rectangular or cylindrical and the capacities range from 600 litres to 200,000 litres.
Walkways or gantries can also be fitted if required as well as hand operated or electric pumps, meters and Fuel Management Systems.
And that's not all.
Your project managed from start to finish
You see at Octane, we don't just supply fuel tank and leave the rest up to you, your new fuel storage tank will be fully installed and commissioned by our team of highly experienced, SPA trained engineers, who have many years experience in the industry.
You will also be kept up-to-date every step of the way until your tank is ready to start dispensing fuel to your fleet.
Just imagine how much stress you'll avoid by letting us manage your project from design to installation and commissioning of your new tank.
Groundwork
Any groundwork or tank pads required to sit the tank and fuel dispensers on is also carried out by Octane, all done in-house, no sub-contractors, therefore saving you time and hassle of having to deal with multiple companies. This includes any concrete repairs you may need for your current yard.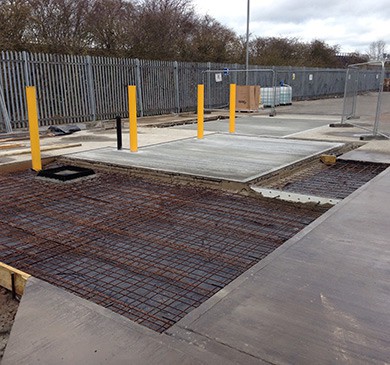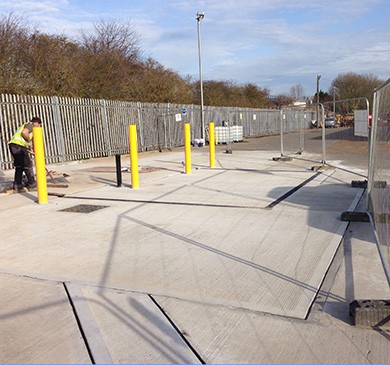 Safety You Can Rely On
All Octane's bunded tanks are constructed in line with BS799 part 5 and all are fully compliant with PPG regulations. For increased security, we also supply anti-vandal cabinets.
FAQ's
Do we need an Interceptor?
Check your drainage and if you think the risk is minimal then it's up to you, but you must prove to the EA that you mitigate the risk or they will come after you
Do we need an overfill alarm?
Yes, it's best practice and you should have an overfill prevention device or alarm
Would we need to have a gauge?
Yes and it should be working at all times
Do we need a capacity label?
Yes, the tanker driver can refuse to fill it if it's not on the tank