Your Guide to Bunded Fuel Tanks

What are bunded fuel tanks? Should you hire or buy a bunded tank? What building and environmental regulations do you need to consider? Get your questions answered in the most comprehensive guide to bunded tanks yet.
I've put together this ultimate guide to give you all the information you need; from how to select the right bunded fuel tank and have it installed, to tank maintenance and removal. Ok, Let's get started.
Definition of bunded
If you haven't purchased a bunded fuel tank before the first thing you probably want to know is, what exactly is a bunded tank?
A bunded tank is a tank that has an extra outer protective layer or 'bund layer', to protect the inner tank storing the fuel. This 'tank within a tank' design offers one of the safest ways to store fuel.
As well as offering protection against damage, the extra outer layer can contain and prevent spillages. The outer layer must also be able to hold 110% of the contents of the inner tank, so if there is a leak or a breach of the inner tank, the outer layer has the capacity to fully contain it.
Buying a bunded tank
If you're looking to buy a new fuel storage tank, there can be a lot of elements to consider. Here are our top tips and list of things to consider.
1. Why do I require a bunded tank?
Many commercial enterprises benefit from being able to refuel vehicles onsite such as haulage companies, local authorities and companies who are running large numbers of fleet vehicles. On site fuel storage is also essential for aviation, ship building, construction and farm operations.
Bunded tanks are required for any storage of fuel over certain volumes and they offer a range of other benefits too. Here are some of the key reasons why a bunded tank is the only choice for your onsite fuel storage:
a) Compliance
Because of the potential hazard to the surrounding environment, there are strict regulations governing how fuel is stored on commercial properties.
Under the Control of Pollution (oil storage) (England) Regulations 2001, the Water Environment (oil storage) (Scotland) Regulations 2006 and the Control of Pollution (Oil Storage) (Wales) Regulations 2016, any storage unit that has the capacity to hold over 200 litres of fuel has to meet certain special storage requirements.
If you want the capacity to store more than 200 litres of fuel on your commercial property, a bunded tank is required to ensure you're in compliance with these regulations.
b) Capacity and bespoke specifications
A bunded fuel tank offers fantastic storage capacity. At octane we supply tanks that can hold up to 125,000 litres within one storage tank. The bunded fuel tanks we supply are also designed bespoke for your needs, be it the shape, size or extras such as walkways and gantries.
You can choose from steel or plastic tanks. And you can order split compartment tanks, to allow you to safely store different fuels within the one overall bunded tank.
If you're unsure what size your current tank is, use our free Tank Size Calculator to help you work out its volume.
c) Built to last
Bunded tanks are robust and durable tanks that are built to withstand the elements and are ideal for coping with the changeable UK weather. Depending on how well they are maintained, a steel bunded tank can have a shelf life of up to twenty-five years.
d) Theft protection
Fuel is a valuable commodity. These tanks offer safety and security for your fuel. If you opt for one of our steel tanks, it will be extremely difficult to penetrate and access the fuel within the inner layer. In addition, the tanks can all be fitted with anti-vandal cabinets for increased security and peace of mind.
2. Is it better to hire or buy a tank?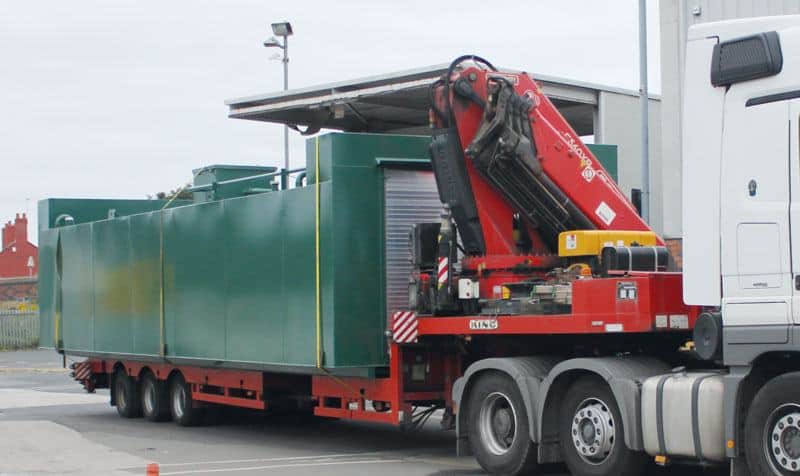 Generally, if you want to store fuel for any prolonged period of time it's better to buy your bunded tank. Whilst it will be a bigger cost upfront, it will save you money in the longer term. When you purchase a tank, the design, size and specifications will all be tailored to you; so you have a bespoke solution that matches your needs. And there are finance packages available to help you manage the costs.
But where your need is shorter-term, hiring a tank can be a more suitable and cost effective option. Octane have a range of hire tank sizes ready to go if you're looking for a temporary fuel solution.
The hire tanks can be supplied as standalone tanks or they can be supplied as a combined package of a tank with pumps and a Fuel Management System. These can generally just be delivered and plugged in at your site and are perfect for things like short-term construction projects.
3. What should I look out for when selecting a bunded tank?
One of the key benefits of bunded tanks is that their design can be tailored to your individual requirements. When thinking about what those requirements might be, here are some of the things you should be taking into consideration:
a) The capacity you need
The most obvious decision that will need to be made is what sized tank to order. Our best piece of advice when making this decision, is to look to the future. Don't just buy a tank for your current level of fuel storage needs. Look to your requirements over the next number of years and ensure that you're choosing a solution that will be fit for purpose down the line.
Whilst the price of the tank will increase as the size increase, it is far more cost effective to allow for extra capacity now, than to have to replace your tank in the near future as you find you no longer have the storage capacity you need. With Octane, you can choose tank capacities from 600 litres, right up to 125,000 litres.
b) The design you want
One of the added benefits of bunded fuel tanks is the ability to customise and personalise your design.
You can choose between above ground and underground bunded tanks.
You can choose to have a plastic bunded tank, which have a lifespan of up to ten years; or you can choose to have a steel bunded tank for an even longer lifespan of up to twenty-five years.
For freestanding fuel tanks above ground you can choose between rectangular or cylindrical shapes; customise the colour and brand it with your company logo and choose whether you want walkways or gantries.
If you need to store different types of fuels products we can design a tank with split compartments; so rather than ordering two tanks, all of your fuel can be safely stored and managed from within one large fuel storage tank. This can include different compartments for diesel, gas oil, engine oil, hydraulic oil and urea.
You can also select whether you'd like it to be hand operated or be fitted with electric pumps and you can customise your meters.
c) Adding extra security
Fuel is a highly valuable commodity – its effectively liquid cash. Bunded tanks offer good security with lockable metal tanks that can be fitted with anti-vandal cabinets for increased security, allowing you to reduce the risk of theft.
But it is worth considering adding extra controls. Installing a Fuel Management System in conjunction with your tank will help greatly eliminate the risk of fraud. They allow you to track fills and mileage to make the unauthorised removal of fuel extremely difficult.
Installing your bunded tank
Once you've chosen the tank which suites all your requirements, it's important to get certified engineers to install the tank for you as there is a lot to consider.
1. Navigating building requirements
The building requirements around the installation of fuel storage tanks are complex and constantly evolving. The best way to ensure that you are compliant with the latest regulations is to choose OFTEC accredited engineers to install your tank.
The type of civil engineering works that may need to be completed include laying down the pipework, creating a hard standing for fuel tanks, creating fuel pump islands, and erecting protective fencing and/or fire protection walls where your tank is connected to a boiler or generator.
2. Safety
Fuel is a massive hazard which is why the regulations around its storage are so stringent. When you're working with it you need specialist safety skills and equipment.
At Octane, safety is our paramount concern. And we'd advise you to ensure that any contractor you engage has fully trained and certified staff. At a minimum you should ensure that, like us:
They can 'cold-cut' various different types of surfaces and use specific non-sparking equipment to ensure safety on site.
All personnel are fully trained to work with breathing apparatus and have undertaken rescue and emergency first aid.
Engineers are part of the Safety Passport Alliance, OFETC Registered and those who hold machine tickets to CPCS standards are permitted on your site.
Maintaining your bunded fuel tank
The key thing to be aware of when you're considering storing fuel is the legal responsibility you're entering into to maintain those tanks. Any spillages or leaks can have a catastrophic impact on the surrounding environment and fuel is a serious fire hazard that requires safe storage.
1. Your maintenance obligations
When you store fuel onsite your required to inspect your tanks and pipework on an annual basis to ensure that they're still fit for purpose and don't pose a hazard to the surrounding environment. Oil Care recommend that you;
"Make sure your fuel storage tanks and oil supply pipes are checked by a competent person at least annually"
One of the easiest ways to meet your obligations and to ensure the optimal performance of your fuel and your tank is to take out a service and maintenance contract. They are the most cost-effective option and will prolong the life of your tank and vehicles, helping you avoid costly, unexpected repairs.
As part of a service and maintenance contract at Octane we will attend your site to inspect your tank once a year to ensure that it is in a sound and appropriate condition and compliant with the relevant regulations such as the Oil Storage Regulations and OFTEC.
An inspection from Octane would include:
A visual inspection of the tanks condition
An inspection of the bund and bunded area which includes dipping the bund for fuel, water and debris.
Dipping the tank for and water presence settled at the bottom of the tank. This is important as small amounts of water in the tank provide a perfect breeding ground for fungal and bacteria to grow causing fuel contamination and can also lead to the degrading of the tank.
Inspecting attached pipework for leaks and suitably, such as suction and fill lines.
Checking valves are in a sound condition for isolation where required.
Testing operation of overfill prevention devices where possible such as alarms and also check gauge operation
Checking the appropriate safety equipment is located nearby where required, such as fire extinguishers; fire shut off valves and spill kits.
A full report and audit document listing any recommendations to bring the tank and site up to current regulations.
If any repairs are required to bring the tank up to safety standards, they can also be carried out by the engineers.
If you fail to complete these inspections on your fuel tank, you are risking heavy fines and your business can be shut down by the Environment Agency.
2. Recommended maintenance
Aside from your required annual inspection, it's also advised to carry out your own regular maintenance checks and inspections of your tanks. And you should have procedures for extra bad weather checks –particular after cold weather or heavy rainfall. These checks should involve inspecting the tanks for any sign of damage, cracks or water.
After choosing the perfect tank and having it installed, many people forget one of the most critical things that affects performance – keeping their fuel and tank clean. This can be costly, if neglected, with 8 out of 10 of all diesel engine failure now attributed to dirty fuel.
The lifespan of diesel stored under normal conditions in diesel fuel tanks above ground or below ground is only 6-12 months. After that, it begins to degrade and so too does the condition of your tank. If you fill your tanks with fuel that is contaminated, the contamination will quickly spread and the whole tank's condition can deteriorate quickly.
As a result, we recommend carrying out regular fuel sample analyses to ensure the quality of the fuel you're getting delivered and to assess the cleanliness of your tank. It will avoid the hefty cost of vehicle breakdowns and replacement parts that can occur otherwise.
Tank removal or replacement
If you're looking for a new tank to replace an existing tank, then using one company to provide all services will help you minimise disruption for your business. At Octane, we offer a complete service, so that you can select your bespoke designed diesel fuel tank, have it installed, have your previous tank disposed of and decommissioned; all with one point of contact.
The benefit of appointing one contractor, to oversee and control the whole project is that it minimises any downtime in operations. In fact, we find that fuel tanks can usually be swapped within one day.
And what about your existing fuel? Not a problem. There is no need to waste a drop. Your previous tank doesn't need to be empty before you install your new tank. Hire tanks can be supplied whilst work on your site is ongoing.
Once work is complete, any usable fuel will be transferred from the temporary holding tank to your newly installed tank. In fact, while the fuel is being temporarily held, you could opt to have it polished; ensuring that you're not adding contaminated or dirty fuel into your new clean tank.
As part of your old tank removal, it's critical that any potentially contaminated areas such as surrounding concrete and soil are cleaned up. Any provider, like us, should provide you with paperwork to certify the areas are free from contamination.