The Sapphire terminal offers you a user friendly, real-time fuel management solution
Business benefits for you:

Increased security & control
Savings on your fuel bills
Advanced reporting
Real-time stock control
Sapphire terminals are compatible with:

All major pump suppliers and all major fuel cards
3G, wireless or landline broadband connections
MCS Datalink Touch and Datalink Air in cab device range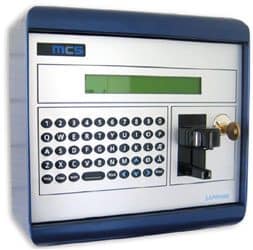 Sapphire's key product features:
The Sapphire terminals utilise both card and touchless key technology. You can access them using keys, fobs, magnetic stripe cards or via wireless contactless devices. Its secure systems are designed to help you prevent fraud and reduce risk.
It utilises online, real-time, technology to allow you access to live and up-to-date terminal information on demand via a secure website (TSM). This real-time stock control and its advanced and accurate reporting, allows you to ensure complete and compliant record keeping.
The Sapphire terminal can be linked with your tank gauge to show completed stock and transaction activity. It also allows you to validate mileage information and track and improve driver behaviour, through integration with any of MCS's Datalink Touch and Datalink Air in cab device range.
Perfect for:
Sapphire Terminals are perfect for use in any business with a large fleet of vehicles, operating out of one or many depots.
Related products:
Sapphire Lite – Entry level fuel management solution
To find out more or book a demo,
give us a call today on
0113 2012 460