Date: 15/03/2016
Fuel Storage Tanks FAQ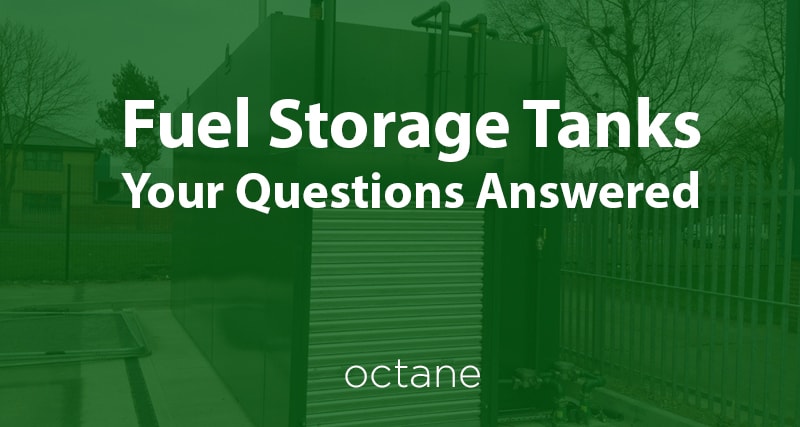 We've gathered together a list of the seven most frequently asked questions about fuel storage tanks, to help you choose the right solution for your home or business.
What is a bunded fuel / oil tank?
A bunded tank is one of the securest ways to store fuel. They are essentially a tank within a tank. The outer or 'bunded layer' provides extra protection to the inner tank containing the fuel. The outer layer is designed to hold a minimum of 110% of the contents of the inner tank, so it provides an extra safeguard in the event of a spillage.
Do I need a bunded tank?
There are regulations* which require special storage containment, such as a bunded tank, in certain circumstances. If your containers have the capacity to store over a certain amount of fuel at your home or commercial premises, these regulations* require the fuel to be stored in a bunded tank, bowers, or Intermediate Bulk Container (IBCC), with the secondary container holding a minimum of 110% of the capacity of the contents.
Here is a look at the regulations in more details:
| | | |
| --- | --- | --- |
| | England | Scotland |
| Relevant Legislation | Control of Pollution (Oil Storage) (England) Regulations 2001 | Water Environment (Oil Storage) (Scotland) Regulations 2006 |
| What it regulates | Above ground oil storage, petrol, diesel and vegetable, synthetic and mineral oils. | Diesel, Petrol and all oil varieties including waste, lubricating, vegetable and plant oil, excluding uncut bitumen. |
| Institutes, commercial and industrial sites regulations | Capacity of over 200 Litres require special storage. | Capacity of over 200 Litres requires special storage. |
| Domestic properties | Capacity of over 3,500 Litres require special storage. | Capacity of over 2,500 Litres requires special storage. |
What building regulations apply to fuel storage tanks?
Building regulations* require that any new tank installed, or old one replaced, which has the capacity to hold 2,500 litres must be bunded. In addition, if the tank size is under 2,500 litres, but it's supplying heating oil to something other than a single family dwelling, or if it's location falls into one of the below categories, it must also be bunded if the tank is:
within 10 metres of controlled water or over hard ground that could enable spillage run off into controlled water

close proximity to an open drain or loose manhole cover, where spillage could run in

within 50 metres of a borehole or spring

where it's location prevents the vent pipe outlet being visible from the fill point.
How close to a building or boundary can a tank be?
There are also building regulations that govern how close to a building or boundary that a tank can be installed. For tanks with a capacity of under 3,400 litres the regulations require:
A clearance of 760mm of a boundary. If this cannot be achieved, it must have a 30-minute fire resistant wall which extends at least 300mm above and past the ends of the tank.

It should not be 1.8m or closer to a building. If this distance is not possible, again a 30-minute fire resistant wall with 300mm extending above and past the tank will need to be fitted. Additional cladding will be required for the eves of the building, to again create a barrier that is resistant to fire for a minimum of 30 minutes.
For tanks with a capacity of over 3,400 litres please visit OFTEC for details, or contact our office for further information.
Who are OFTEC and do I need an OFTEC engineer?
OFTEC is the Oil Firing Technical Association and is an independent body that governs the certification of engineers and technicians involved in the delivery of oil and servicing or installation of oil fired equipment.
All OFTEC engineers have passed specific exams to certify them to carry out tank installations correctly. With the regulations in this area becoming increasingly complex, it's important that any company you deal with uses approved OFTEC engineers. Click here to view Octane UK's full list of accreditations.
What type of fuel storage tanks can I get?
At Octane, you can get a totally bespoke bunded tank to suit your specific needs. You can choose any size or shape, from cylindrical to rectangular, from 600 litres domestic to 125,000 litres commercial. You can choose between a bunded oil tank or bunded fuel tank and they can be customised with your brand colours, company logos, walkways and gantries.
What about my old fuel storage tank?
Your old tank doesn't need to be empty before installation. We can pump out any existing fuel, and once the new tank is installed, we can polish the fuel and transfer it into your new bunded tank. We can also remove your old tank and dispose of it safely, ensuring that the area and surrounding environment are clean and protected.
To find out more about our bunded tanks, get in touch with us today
* This article contains a simplified explanation of regulations and legislation and does not constitute legal advice. Regulations in this area are constantly evolving and it's the individual's responsibility to ensure they are compliant. If you're considering the storage of fuel on your premises, please contact us and our OFTEC engineers will find the right solution for you. Or visit the OFTEC website and the Environment Agency website for more information.